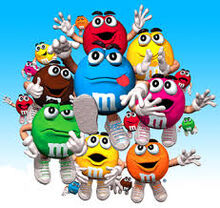 The Minis are spokescandies for M&M's Minis. They appear in different colours and genders. They are very destructive. Red and Yellow tried different ideas in various commercials. In one, they got into a tube, thinking the Minis would do the same. Instead, they were thrown into a garbage truck. In another, Red and Yellow dressed up as superheroes to stop them, but there is no food allowed on the bus they tried to take. They are the main antagonists of M&Ms the Lost Formulas.
Ad blocker interference detected!
Wikia is a free-to-use site that makes money from advertising. We have a modified experience for viewers using ad blockers

Wikia is not accessible if you've made further modifications. Remove the custom ad blocker rule(s) and the page will load as expected.