Landed in the wrong path?

This article is about The M&M's Pretzel flavor page. For the Redirects, see Pretzel (REDIRECT).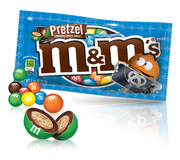 Pretzel M&M's are a 2010 M&M's flavour. Pretzel contains various ad's starring Orange and Pretzel Guy seeking to get away without getting eaten. These can only be bought in the US as of 2017.
These can not be brought in Australia
However they can be seen at minor candy stores in Australia
Sometimes, Red appears on the wrapper
Ad blocker interference detected!
Wikia is a free-to-use site that makes money from advertising. We have a modified experience for viewers using ad blockers

Wikia is not accessible if you've made further modifications. Remove the custom ad blocker rule(s) and the page will load as expected.