"Mock" Is an M&MS Commercial Featuring Red, Yellow, and Ms. Brown. This commercial was used to promote the "find an all brown bag" contest
Red: (Imitating Ms. Brown By Wearing Glasses and holding an ipad) I'm Ms. Brown! I'm So Chocolatey! I'm Giving away Money So People Will Like Me! (Red sees Ms. Brown Behind him, and nudges toward yellow) Is What he said, and i was like you watch your mouth she's my friend!
Ms. Brown: Friend is a Strong Word
Announcer: Chocolate just got more irrasistable. Find the all brown bag and you could Win!
This is The Second Commercial That Ms. Brown has appeared in
Red is making fun of Ms. Brown, and Yellow is laughing at him, hinting that they may not like her.
Despite Being in it, Yellow Has No lines in this commercial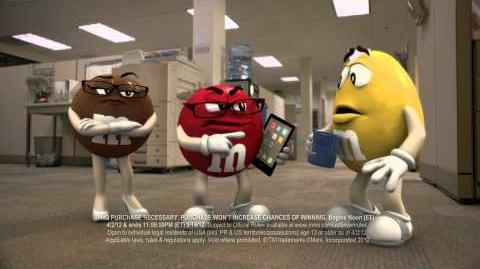 See The Comercial Yourself!
Ad blocker interference detected!
Wikia is a free-to-use site that makes money from advertising. We have a modified experience for viewers using ad blockers

Wikia is not accessible if you've made further modifications. Remove the custom ad blocker rule(s) and the page will load as expected.