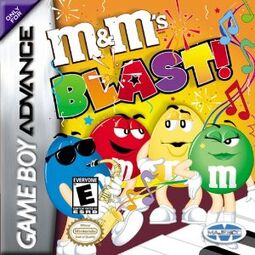 M&M's Blast!
Edit
Made on the GBA in 2001, it is a party game with 4 maps and 4 characters. The characters take turns moving around a board. The goal is to reach the end of the board with the most minis. You earn them by landing on green spaces, in the large amount of minigames, or by winning them by luck.
Ad blocker interference detected!
Wikia is a free-to-use site that makes money from advertising. We have a modified experience for viewers using ad blockers

Wikia is not accessible if you've made further modifications. Remove the custom ad blocker rule(s) and the page will load as expected.