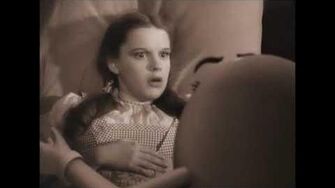 The M&M's lost their colors to Dick Clark on New Years Day in 2004, so they parodied the Wizard of OZ quite subtly.
Transcript
Edit
Miss Green: And you were there, darling.
Yellow: We-he-hell. She seems alright, now.
Red: We kinda thought she was gonna leave us.
Dorothy Gale: But I DID leave, and I tried to get back for days.
Miss Green: You just had a bad dream.
Blue: Sure. Remember me?
Dorothy Gale: Oh, but... it wasn't a dream. Um, (points at the almond spokescandy) you were blue, and (points at the plain chocolate or peanut butter spokescandy) you were red, and (points at the roasted peanut spokescandy) you were yellow. You were all in color, and all so beautiful! Oh, it was a lot better.
Voice Vo: Help the M&M's find their colors.
The commercial was parodied on MadTV
ADS (ACTUALLY REDIRECT!)